The GIHSN is supported by a dedicated fund, the Foundation for Influenza Epidemiology.
The Foundation for Influenza Epidemiology was created in September 2015 by Sanofi under the auspices of Fondation de France to formalize several years of commitment to epidemiological research on severe influenza.
This funding mechanism was established to facilitate additional funding from other donors for this world-scale active surveillance project.
4 new donors have joined the Board in addition to Sanofi: Illumina, Seqirus, Abbott and IFPMA/IVS
All donations collected through this foundation are dedicated to epidemiological research in the field of severe influenza and other respiratory viral diseases.
GOVERNANCE OF THE FOUNDATION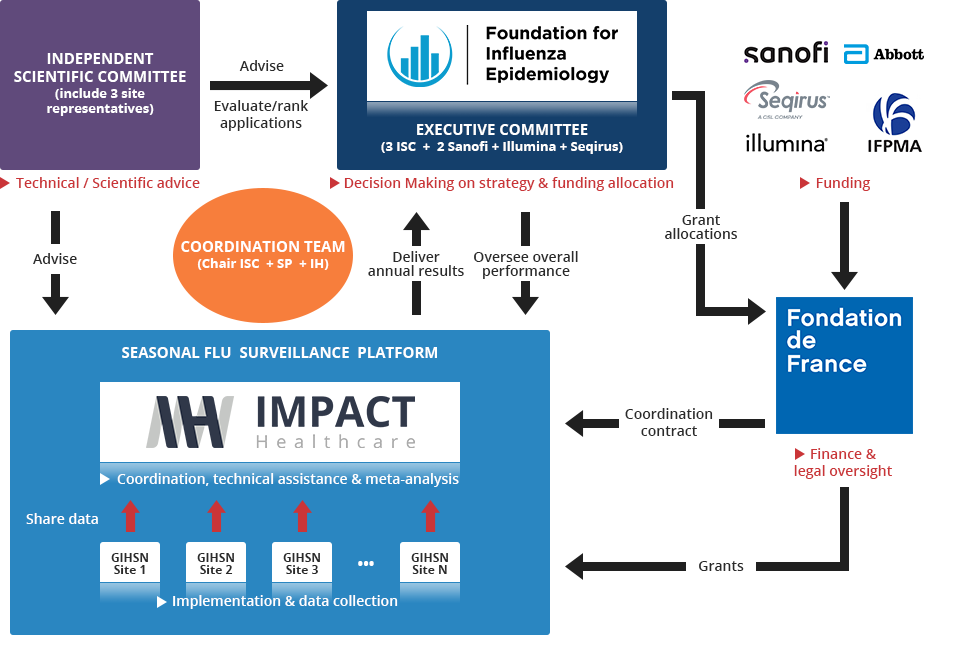 The governance of the Foundation for Influenza Epidemiology is ensured by an Executive Committee (EC). The Executive Committee is the decision maker, in charge of the strategic directions related to the project. Based on pre-established criteria, the Executive Committee selects applicant sites for funding allocation each year. The Executive Committee is composed of donors representatives and three independent experts.
Scientific oversight is ensured by an Independent Scientific Committee involving some of the world's top flu epidemiology/virology/policy experts including representatives from US CDC and WHO.
Coordination of the network and operational implementation, including data collection & hosting, is supported by an independent organization: Impact Healthcare.
Members of the Scientific Committee
Independent Experts:
Marta NUNES, CERP, University of Lyon, France (Chair)
Bruno LINA, University of Lyon, France (former Chair)
Joseph BRESEE, The Task Force for Global Health, USA
John McCAULEY, Crick Institute, London, UK
John PAGET, Netherlands Institute for Health Services Research, Utrecht, Netherlands
Justin ORTIZ, University of Maryland, USA
Cecile VIBOUD, Fogarty International Center at the National Institutes of Health (NIH), USA
Wenqing ZHANG, Global Influenza Program, WHO, Geneva (Observer)
Sandra S CHAVES, Foundation for Influenza Epidemiology, France (Observer)
Site Representatives:
Melissa K ANDREW, Canadian Serious Outcomes Surveillance Network, Halifax, Canada
Sonia M RABONI, Virology Laboratory, Infectious Diseases Division, Universidade Federal do Paraná, Brazil
Xavier LOPEZ LABRADOR, Virology Laboratory, Genomics and Health, FISABIO, Spain
COOPERATIONS
A constructive dialog with WHO Global Influenza Program has been developed. Early February 2023, the GIHSN shared with WHO its first descriptive report presenting phylogenetic threes of circulating influenza strains from hospitalized patients captured by the GIHSN surveillance platform.
It is expected that those sequencing results from 226 influenza cases collected in 11 countries from 1st September 2022 to 1st February 2023 will add disease severity perspective to the large dataset of influenza surveillance data generated by the WHO Global Influenza Surveillance and Response System (GISRS) and will support the WHO advisory group of experts to issue recommendations on the composition of the influenza vaccines for the following season.